ExpressCrypto Faucet List
-- Last Updated: --
After the end of FaucetHub, the most accredited heir appears to be ExpressCrypto and the faucets who use it to make their payments instantly are already many, given also that the well-known microwallet also supports many cryptocurrencies.

We have therefore below made a collection of the best faucets for ExpressCrypto continuously updated; by clicking on the following buttons, you can consult a list of faucets for each supported cryptocurrency.
Rank
Faucet Name
Criptos
Reward
Timer
Payout
Rating
Earn
1
ESFaucet



and more

variable + BONUS
variable
ExpressCrypto
FaucetPay
Direct Wallet
get free
cryptocurrencies
2
Dutchy CORP - Final AutoClaim
from 10 seconds to 8 minutes
from 30 minutes to 24 hours
ExpressCrypto
get free
cryptocurrencies
3
Jupiter Faucet
from 3 to 26 satoshi
2 minutes
ExpressCrypto
get free
Bitcoin
4
QueenFaucet ETH
76
gwei
5 minutes
ExpressCrypto
get free
ethereum
5
GainXRP
0.0002
5 minutes
ExpressCrypto
get free
ripple
6
Multiclaim BCH
up to 5000 satoshi
5 minutes
ExpressCrypto
get free
bitcoin cash
7
Faucet Bitco LTC
500 litoshi
180 minutes
ExpressCrypto
get free
litecoin
8
GainDASH
600
dashtoshi
5 minutes
ExpressCrypto
get free
dash
9
Faucetio XMR
180 piconero
5 minutes
ExpressCrypto
get free
monero
10
GainZEC
800 satoshi
5 minutes
ExpressCrypto
get free
Zcash
11
QueenFaucet DGB
0.02
5 minutes
ExpressCrypto
get free
digibyte
12
QueenFaucet DOGE
0.02
5 minutes
ExpressCrypto
get free
dogecoin
13
GainPPC
200.000
peertoshi
5 minutes
ExpressCrypto
get free
peercoin
14
QueenFaucet TRX
0.02
5 minutes
ExpressCrypto
get free
tron
15
Toptap RDD
0.05
5 minutes
ExpressCrypto
get free
Reddcoin
ExpressCrypto microwallet: review and guide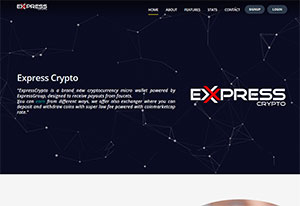 One of the most complete microwallets used by both users and faucet owners is certainly ExpressCrypto, which was born even before the departure of the famous FaucetHub, managing to grab a good share of it in this crypto tap sector. From the beginning appeared a very mature project, then exploded after the disappearance of the most famous competitor founded by Mexicantarget: in fact, there are many supported cryptocurrencies and thousands already the faucets who use this complete platform as a means of immediate payments.

The main utility of ExpressCrypto is to offer a single account where to collect earnings from different faucets, thus allowing the user to reach the withdrawal threshold of individual currencies soon.
How Express Crypto works: the tutorial
The operation of ExpressCrypto can be summarized in a few steps:
once you have made a simple registration with email and password, you must link your wallet addresses to the account in order to withdraw, by clicking the menu item "Withdraw" and filling in the relevant fields for each currency;
at this point, you can access the list of faucets linked to ExpressCrypto, by clicking on the link "List of Sites": here of them there is a breakdown by currency and there are many useful indications, such as the amount of reward, the timer, how much paid so far, the users who have claimed you and the state of health;
to go to the single faucet, just click on the icon of the link "Visit": as the cryptocurrency satoshi are claimed, you will see an increase in the balance of the individual addresses, shown in the dashboard.
ExpressCrypto supports the most renowned and important digital coins in terms of capitalization. Specifically, they are:
- Bitcoin
- Bitcoin Cash
- Bytecoin
- Cardano
- Dash
- DigiByte
- Dogecoin
- Ethereum
- Ethereum Classic
- Horizen
- Komodo
- Lisk
- Litecoin
- Monero
- Neo
- Peercoin
- Pivx
- Reddcoin
- Ripple
- Stratis
- Tezos
- Tron
- Vertcoin
- Waves
- Zcash
The wall of offers, games and exchange
As did the old FaucetHub, ExpressCrypto also offers various ways to earn free bitcoin and altcoins. You can first participate in the wall of offers by clicking on the menu item "Offerwalls": here you earn EXS points, usable in the portal or convertible into cryptocurrencies, responding to surveys, completing tasks or clicking on sponsored ads.

An equally fun and risky way to get satoshi is to play the lottery, dice or Bingo: it is true that you can multiply your earnings quickly, but also face heavy losses, which blow up the time spent claiming.

In addition, ExpressCrypto presents a small exchange, which allows you to exchange cryptocurrencies between users, with a fixed fee of 3%: this is very convenient especially when the faucets of a cryptocurrency, which is of particular interest, latitano by number or reward and you are still far from the payout.
ExpressCrypto levels and Premium account
The microwallet also features a leveling of its users, based on a points accumulation system, called ECP: these can be collected by making claims in the faucets, participating in the games and the wall of offers, as well as at Bingo. Each level has a number of advantages, such as unlocking options and earning more.

Additional privileges can then be accessed, becoming a Premium user at a cost of 2,500 monthly BTC satoshi: it allows customizations in chat and account, as well as the reduction of fees in chat and internal exchange.
Payment from ExpressCrypto
The withdraw from ExpressCrypto can be easily requested by entering the balance sheet of the single currency and then clicking on the "Submit Withdraw" button, after filling in the required fields. For each electronic coin to be requested there are different fees.

Finally, there is a minimum payout to be able to withdraw differently for each individual cryptocurrency; specifically they are:
Bitcoin = 0.00010000 BTC
Bitcoin Cash = 0.00500000 BCH
Ethereum = 0.00750000 ETH
Litecoin = 0.00100000 LTC
Bytecoin = 100.00000000 BCN
Dogecoin = 10.00000000 DOGE
Lisk = 0.30000000 LSK
Dash = 0.00100000 DASH
Peercoin = 0.10000000 PPC
Waves = 0.50000000 WAVES
Ethereum Classic = 0.05000000 ETC
Monero = 0.01000000 XMR
Zcash = 0.01000000 ZEC
Digibyte = 1.00000000 DGB
Ripple = 1.00000000 XRP
Stratis = 0.10000000 STRAX
NEO = 1.00000000 NEO
Tron = 10.00000000 TRX
Cardano = 10.00000000 ADA
Horizen = 0.05000000 ZEN
Komodo = 1.00000000 KMD
PVIX = 1.00000000 PVIX
Reddcoin = 1.00000000 RDD
Vertcoin = 1.00000000 VTC