FaucetPay Faucet List
-- Last Updated: --
After FaucetHub's departure, FaucetPay appears to be one of the most promising microwallets, already managing to count a good number of faucets that use it as a payment system.

Here is a collection of the best faucets for FaucetPay.io updated; by clicking on the following buttons, you can consult a list of faucets for each supported cryptocurrency.
Rank
Faucet Name
Criptos
Reward
Timer
Payout
Rating
Earn
1
Firefaucet
variable
autofaucet
FaucetPay
Direct Wallet
get free
cryptocurrencies
2
CoinPayz



and more

variable + BONUS
variable
FaucetPay
Coinbase
Direct Wallet
get free
cryptocurrencies
3
BigBTC
3 satoshi + BONUS
5 minutes
FaucetPay
get free
bitcoin
4
11Bitz ETH
upto 250 gwei
11 minutes
FaucetPay
get free
ethereum
5
OleFaucet BCH
80 satoshi
3 minutes
FaucetPay
get free
bitcoin cash
6
FreeSolana LTC
up to 2200 litoshi
2 minutes
FaucetPay
get free
litecoin
7
CoinDiversity DASH
variable
1 minute
FaucetPay
get free
dash
8
ClaimClicks TRX
up to 0.02
5 minutes
FaucetPay
get free
Tron
9
CryptoRotator DGB
0.01
5 minutes
FaucetPay
get free
digibyte
10
Diamond Faucet DOGE
0.0018
7 minutes
FaucetPay
get free
dogecoin
FaucetPay: review and guide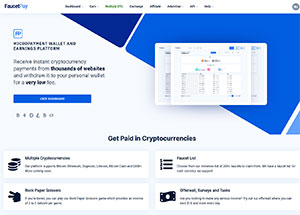 FaucetPay is a microwallet, born after the disappearance of FaucetHub, which quickly gained the favor of faucet owners, who are widely adopting it as a means of payment for its users. The site professes itself as, not only a wallet for micropaid, but also an earning platform, offering numerous opportunities to replenish its wallet.

The cryptocurrencies supported by FaucetPay are not as many as those present in the old FaucetHub, but are basically the most capitalized ones, namely: Bitcoin, Ethereum, Litecoin, Dogecoin, Dash and Bitcoin Cash. On the other hand, the list of the faucets that use it already seems interesting: of course, we are still far from faucethub numbers, but the beginning is encouraging.

As for the unterorious features compared to that of microportafoglio, FaucetPay.io proposes some earning methods, hi/low gaming, an exchange and an affiliate system.