Primecoin Faucet List
-- Last Updated: --
Primecoin is an innovative altcoin that, unlike Bitcoin, tries to give meaning to cryptographic processing in the Proof of Work, through an algorithm based on prime number chains, which are of great interest in the field of mathematical and physical research: the mining work thus has a value not only aimed at the security of the blockchain.

Anyone wishing to get Primecoin for free can use the XPM faucets listed below.
Rank
Faucet Name
Reward
Timer
Payout
Payment
Rating
Earn
There are currently no paying faucets for Primecoin
The Primecoin cryptocurrency (XPM): the currency of prime numbers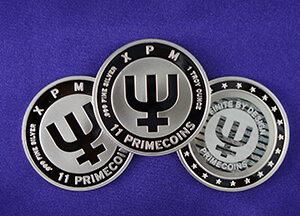 Primecoin was created in 2013 by Sunny King, pseudonym of the brilliant developer who also founded Peercoin a year earlier. Like its sister crypto, Primecoin also represented a great innovation in the digital coin sector, having been the first mathematical cryptocurrency.

This feature is given by the fact that Primecoin's Proof of Work not only serves to secure the blockchain, as happens with the Bitcoin POW, based on hashing, but also provides a contribution to mathematical research, thanks to a calculation based on Prime numbers. Primecoin has therefore given a further sense to the use of electricity from mining, directing the computational power developed in the search for the most important chains of prime numbers, such as those of Cunningham and the bi-twin ones, which are of great interest for progress. in mathematics and physics: the mining algorithm thus has a secondary value, thanks to the production of a socially useful by-product.

Although not among the most capitalized cryptocurrencies today, Primecoin remains a very stable and reliable currency also for the future, given its great scientific and social value.
How to mine PrimeCoin
Primecoin uses a Proof of Work algorithm based on the search for prime number chains, but the mining methodologies are very similar to those of other proof-of-work cryptocurrencies.

On the official website there are some instructions on Primecoin mining, which can be done with the download of a miner and the use of the CPU or GPU of the PC or in clouding.
The online wallet for Primecoin
The Primecoin desktop wallet can be downloaded from the official website and is only available for Windows and Linux; there are currently no versions for IOS or mobile.

Therefore, the online multicoin wallets listed here, which also include Primecoin, become very useful; these are accessible to all users, even those who use Apple devices or Android smartphones.
Wallet
Cryptocurrencies
Device
Security
Fees
Additional
services
get
wallet
0.1 XPM
no
wallet
primecoin
Primecoin trading
Aside from the launch period, Primecoin's trend remained fairly stable in the early years of its life. Only in recent times, as well as all other cryptocurrencies, this altcoin is also enjoying a bullish moment, albeit with many phases of lateralization. In reality, given its innovative nature from a technical point of view, Primecoin does not lend itself much to the pump and dumps typical of many shitcoins, but it can be considered a digital currency on which to make long-term investments.